---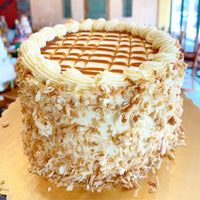 Very unique and a customer favorite! Three layers of traditional Italian cake (vanilla cake with caramel and walnuts baked in), filled with homemade Italian buttercream and toasted coconut on the outside. Topped with a caramel drizzle. 
We also have cakes and plenty of other items available to pick-up the same day that do not require any pre-orders!! Please stop by your nearest location! If you would like to order within 48 hours, please call or stop by your nearest location to ask a friendly team member for assistance! 
Original West U:
3237 Southwest Freeway, 77027
(713) 665-6226
RustikaCafe@gmail.com
Sugar Land:
3227 Highway 6, 77478
(281) 494-4230
RustikaCafeSL@gmail.com
League City:
610 E. Main Street, 77573
(281) 554-0044
RustikaLC@gmail.com
Friendswood:
1302 S. Friendswood Drive, 77546
(281) 947-8709
RustikaCafeFW@gmail.com
Follow and Tag Us on Facebook and Instagram!!!
@RustikaCafe
Customer Reviews
Delicious Italian Cream Cake!
This cake was everything I ever hoped for; I have been looking for a new baker since my last go-to for Italian Cream closed, and this takes the cake! I made a mistake ordering at a bakery further away and gave a short time to prepare, but the manager was great and worked it all out just in time for my birthday! Thank you so much; I am recommending and will definitely be coming back in the future!
09/22/2021
Sam M.

United States
Delicious!
Ordering was easy. Product was tasty.
08/24/2021
Jeremy W.

United States
The Best Damn Cake
The cake was delicious. Very moist was a big hit. The only problem was I wish we would of ordered a bigger one!