---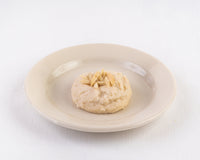 Our Almond Butter cookie is one of the most popular cookies! It is so soft, a buttery, and it melts in your mouth. The flaky texture will fill you taste buds with joy!
The cookie dough requires a special technique that requires two entire days! The butter has to the right consistency to create this sweet delight! 

We also have cakes and plenty of other items available 
to pick-up the same day that do not require any pre-orders!!
 Please stop by your nearest location! If you would like to order within 48 hours, please 
call or stop by your nearest location to ask a friendly team member for assistance!
Original West U:
3237 Southwest Freeway, 77027
(713) 665-6226
RustikaCafe@gmail.com
Sugar Land:
3227 Highway 6, 77478
(281) 494-4230
RustikaCafeSL@gmail.com
League City:
610 E. Main Street, 77573
(281) 554-0044
RustikaLC@gmail.com
Friendswood:
1302 S. Friendswood Drive, 77546
(281) 947-8709
RustikaCafeFW@gmail.com
Follow and Tag Us on Facebook and Instagram!!!
@RustikaCafe