---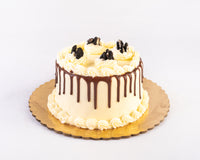 Three layers of chocolate cookies and cream cake, filled with homemade cream cheese icing and crushed Oreos.
We also have cakes and plenty of other items available to pick-up the same day that do not require any pre-orders!! Please stop by your nearest location! If you would like to order within 48 hours, please call or stop by your nearest location to ask a friendly team member for assistance! 
Original West U:
3237 Southwest Freeway, 77027
(713) 665-6226
RustikaCafe@gmail.com
Sugar Land:
3227 Highway 6, 77478
(281) 494-4230
RustikaCafeSL@gmail.com
League City:
610 E. Main Street, 77573
(281) 554-0044
RustikaLC@gmail.com
Friendswood:
1302 S. Friendswood Drive, 77546
(281) 947-8709
RustikaCafeFW@gmail.com
Follow and Tag Us on Facebook and Instagram!!!
@RustikaCafe
Customer Reviews
Wasn't as pictured, late order
The cake didn't look like the picture in the order. I had the cake for pick up at 8:00am, I arrived at 11:00am, but they told me it would be an additional hour. I picked up the cake at 12:00pm, four hours later from my pick up time. They spelled the name wrong on the cake. I don't think I'll order from this bakery again, because the cake just had crushed oreos on top of it instead of in a nice pattern.