---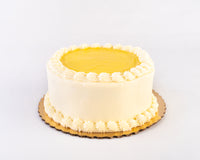 Three layers of vanilla cake, filled with Cream Cheese Icing and our homemade lemon curd made with real lemon juice! 
We also have cakes and plenty of other items available to pick-up the same day that do not require any pre-orders!! Please stop by your nearest location! If you would like to order within 48 hours, please call or stop by your nearest location to ask a friendly team member for assistance! 
Original West U:
3237 Southwest Freeway, 77027
(713) 665-6226
RustikaCafe@gmail.com
Sugar Land:
3227 Highway 6, 77478
(281) 494-4230
RustikaCafeSL@gmail.com
League City:
610 E. Main Street, 77573
(281) 554-0044
RustikaLC@gmail.com
Friendswood:
1302 S. Friendswood Drive, 77546
(281) 947-8709
RustikaCafeFW@gmail.com
Follow and Tag Us on Facebook and Instagram!!!
@RustikaCafe
Customer Reviews
Delicious but one issue...
The cake was absolutely delicious, so moist and flavorful. However, when I got the cake home the top layer had separated and slid off of the bottom layer so the cake looked terrible. No, there were no issue w/ fast stops or anything so was shocked to see this. We tried to put it back together as best we could but it was a mess. They were putting the "finishing touches" on when I arrived. Wondering if the cake was baked same day and it was put together before it had completely cooled. That was the only explanation my party could come up with. It still tasted delicious though!
09/14/2021
Tawana S.

United States
Lemon cake
I purchased a lemon cake for my husband's birthday. It was delicious and very moist. The lemon curd is awesome, I could eat it by itself.